Spring Bonus! available on iOS and Android
I'm happy to announce that Sturdy Games and Grey Alien Games have teamed up with AppyNation to bring you Spring Bonus for iOS and Android!!!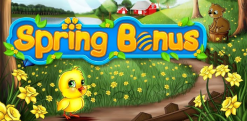 You've been chosen by the Easter Bunny to help him light up the Magic Rainbow by melting away the cold grip of Winter! Embark on a magical journey through the Spring countryside with the cutest animal friends this side of Dr Fluffikin's Petting Zoo!
A hundred levels full of the most adorable fun – just tap and slide your way through the countryside, unfreezing Easter eggs, thawing yummy chocolate, rescuing hapless frogs and adorable ducks from their icy ponds – bring sunshine back to the land!
Spring Bonus gives players a much needed boost of sugar, chocolate and cute animals featuring fluffy chicks, frolicking lambs and bouncy rabbits. This adorable match-3 game is bursting with bonuses and fun for all the family!